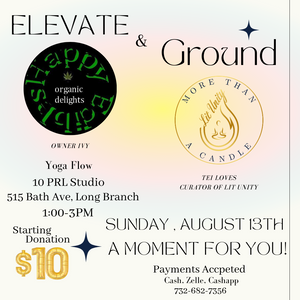 Elevate & Ground
Regular price $10.00 Sale
**Elevate & Ground: Cannabis Friendly Yoga Flow**
Calling all yogis and cannabis enthusiasts!
Join us for a unique and transformative experience that combines the ancient practice of yoga with the soothing properties of cannabis.
Whether you're a seasoned yogi or a curious beginner, Elevate & Ground is the perfect opportunity to explore the synergy between mindful movement and the calming effects of cannabis.
**What to Bring:**
- Your open heart and positive energy
- Yoga mat (some mats provided)
- Comfortable clothing for movement
- Journals for self-reflection
**What to Expect:**
Guided Yoga Flow: Our experienced yoga facilitator will guide you through a carefully curated sequence of poses designed to enhance your mind-body connection, promote relaxation, and foster a sense of balance.
Cannabis-Friendly Atmosphere: Elevate & Ground offers a safe and welcoming space for those who choose to enhance their practice with cannabis. We encourage responsible and mindful consumption to complement your yoga journey.
Journaling Opportunity: Discover deeper layers of self-awareness as you embark on a journey of self-discovery. Capture your thoughts, emotions, and insights in your journal after the practice.
Benefits of Yoga and Cannabis
**Yoga:**
- Improved flexibility and strength
- Stress and anxiety relief
- Enhanced focus and mental clarity
- Increased mindfulness and self-awareness
- Better sleep and relaxation
**Cannabis:**
- Relaxation and stress reduction
- Heightened sensory perception
- Deepened mind-body connection
- Enhanced creativity and introspection
- Potential pain and inflammation relief
**Reserve Your Spot:**
Limited spots available! Secure your spot for Elevate & Ground today by registering at
www.LitUnityCandles.com
Don't miss this opportunity to explore the harmonious blend of yoga and cannabis in a supportive and nurturing environment.
For inquiries, please contact 732-682-7356.
Embark on a journey of self-discovery, relaxation, and exploration with Elevate & Ground. We look forward to sharing this transformative experience with you!