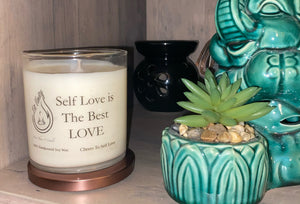 Cheers to Self Love
Regular price $26.00 $22.00 Sale
Cheers🥂to Self Love
Celebrate all of YOU! 
CTSL is an invigorating uplift to your desire to celebrate all that you are. A pungent flow of fruits and Love for self perfect for any girls night or your favorite self love ritual.
Fragrance Notes: 
Top: Raspberry, Lemon, Orange
Middle: Plum, Freesia
Base: Red Wine, Creamy Vanilla, Sugar
Ingredients: 
Premium quality ingredients such as 100% organic pure soy wax (without any additives), blends of essential oils and natural lead free cotton wicks. 
Each candle is labeled with a self-love quote scripted by the curator. 
All of our candles are handcrafted with love and positive intentions. With our candles, our Flame members are able to enable self-love and ignite their true desires. Don't forget to use our scents to following your true desire and showing up for yourself!
Specifications:
Burn Time: 45 to 50 hours.
Wax: Natural soy wax blend
Scent: Premium and organic quality ingredients create divine and blissful scents. 
Wick: Wicks are made with 100% natural lead free cotton wicks
Weight: 10 oz